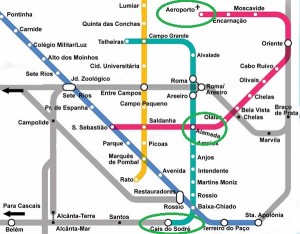 Most of our visitors arrive to Cascais coming from Lisbon airport. Frequently they arrive here by taxi, which is a bit expensive! Simply because they are not sure about the public transportation in the region…
To get to Cascais from any part of Lisbon it is easy, you simply have to get to Cais do Sodré train station.
If you arrive by plane, you catch the red line of Lisbon Metro in Airport station, then you change for the green line in Alameda station, this line will take you to Cais do Sodré train station. There you have trains to Cascais every 20 minutes.
The Cascais train station is right in the center of the town and most of Hotels are accessible with a short walk.
Most of transport services are near the train station. If you want to rent a scooter we are 200 m away from train station near Jardim Visconde da Luz. Scooters are the simply and funniest way to discover all the region.